The NPC team helps businesses meet specific needs and goals through simple, secure, cost-effective payment processing services. NPC can customize a safe, easy solution with low transaction rates.
NPC's Business Solutions
With an extensive line of merchant processing products from which to choose, you can customize a complete payment solution that best fits your business. Our mobile processing services allow you take business on the go, while advanced credit card machines transmit data securely and efficiently. And by integrating our payment solutions with your existing business strategy, you can start enjoying a streamlined process right away.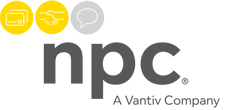 The Newest Terminals on the Market
Card issuing banks are now embedding a chip into their credit and debit cards to reduce fraudulent "swiped" transactions, making your transactions safe and secure. After October 2015, your business will assume liability of any fraudulent transaction if you continue to swipe cards instead of using the new and improved EMV technology.
All-in-One iPad Point-of-Sale System
NPC can transform your iPad into a sophisticated, portable POS system. With the power of NCR Silver behind it, an all-in-one iPad POS system has all the functionality of traditional POS with the addition of tracking for inventory, sales and profitability.
Free Secured Payment
App
It's now possible to manage even the more complex facets of your business from your mobile phone. Our feature rich payment app grants you access to credit card payment processing, mobile invoicing, simple online selling tools and digital coupon promotions, from anywhere at any time.
Online Payment Processing
With NPC secure form builder, an internet connection is the only requisite for processing and managing internet transactions quickly and easily. PCI DSS and PABP certified, NPC Secure is the powerful, flexible, cost-effective, and installation-free Virtual Point of Sale system your business can rely on.
Accounting System Integration
Businesses each have their own accounting procedures and methods. Many use Quickbooks, some have other accounting solutions and some are custom to your business or industry. Let us help you find the best integration package to make your accounting easier. If you are a QuickBooks user, please call us for more information on our Payment Plugin that integrates QuickBooks with your payments.
Looking for a complete receivables management solution? We have the answer!
A Complete Receivables Management Solution
By offering a variety of terminals, we can help your business select the right option for fast customer processing and excellent growth.
One Easy Solution
Now you can invoice, collect, track and manage your receivables in one user-friendly environment with PayTally, an easy, cloud based, receivables management solution for businesses just like yours.
Process payments and manage invoices from any computer as long it has an Internet connection
Bill a customer's card one time or on a recurring basis, and safely store their information for future purchases
Create and send customized click-to-pay invoices or run recurring billing schedules to bill customers automatically
Host customized web payment forms for customers to view and pay online via a secure portal
Send automatic emailed receipts for all payments
View ready-made and custom reports for a complete look at your receivables
Import/export functionality with QuickBooks* and other small business software
Benefits:
Whatever platform you choose to use, NPC business solutions are sure to have a positive impact in several areas of your business.
Accept all major credit cards and ACH/eCheck payments, to help increase sales
Improve customer experience
Increase on-time payment collection
Accelerate cash flow